Never-ending Construction Towing in LA
There is never a point in time when Los Angeles is not under construction. New freeway bridges and off-ramps, constant development, new homes, big or small LA is a constant work in progress. With all this constant construction and the need for heavy materials and machinery, there's bound to be a need for a lift. Whether that be a rollover, winch-out, or simply just transporting large equipment to and from, you're going to need a heavy-duty tow specialist for the job. Enter Pepe's Towing. Read more to see what it takes to tackle construction and machine lift towing in Los Angeles.
Construction Towing & Machine Lift Assistance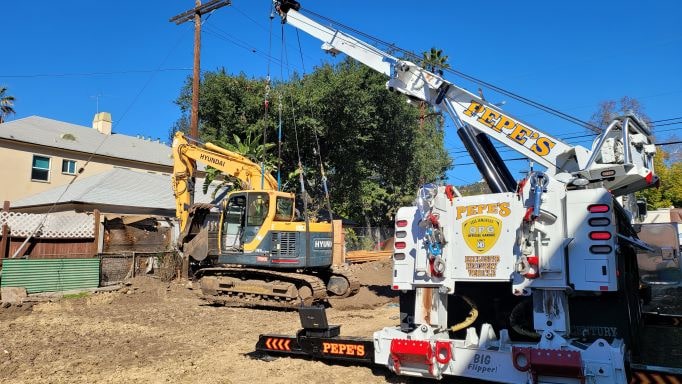 An Experienced team
The most important thing when performing construction towing is a highly skilled and experienced team. Many of the jobs are complex and require trained tow operators who are creative and strategic when arriving at a construction site. The ultimate goal is to safely recover all equipment without further damage to the site or the machine. Without a team, you can truly trust it becomes very dangerous. Luckily, our team has more than 40 years of experience towing and has seen just about every situation that happens in Los Angeles.
The Right Equipment
Heavy-duty construction machinery is far from lightweight. When handling thousands of pounds every single day it is not something that we can be amateur about. This is why being a tow operator is one of the most dangerous jobs. There are a lot of moving parts when planning a recovery of this size. So it is crucial to have the right equipment for the situation. We use our team of heavy-duty rotators, including Hulk (our 50-ton rotator) and Big Flipper (our 75-ton rotator) to handle the heavy lifting needed to tackle heavy-duty machine lifts.
Types of Machine Lifts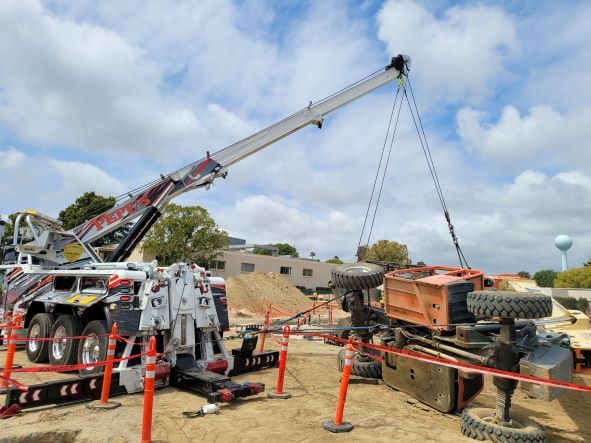 When it comes to machine lifts, no job is too big or too small. Pepe's is one of the largest fleets of rotators, heavy wreckers, and landolls in Los Angeles to handle any type construction towing.
Here are the types of machine lifts we can do:
Heavy Machinery
Construction Vehicles
Industrial Machinery
Forklifts
Cranes
Tractors
Construction Equipment
Airport loader
The next time you or your team is in need, give us a call.
Machine Lift Towing in LA
With the right equipment and a great crew, machine lift towing is what makes this job exciting. Every call we take on a new challenge to figure out the best possible way to recover the machines. If you ever need assistance in transporting machinery or an accident occurred on the construction site, we're here to help. For more, see how our expert crew and robust fleet handles construction lifts on our Youtube channel.