Los Angeles's Go-To Heavy-Duty Towing Company
Pepe's Towing operates 24 hours a day, 7 days a week, 365 days a year, and there's a reason for that: we love what we do, and we will do it no matter what the day, time or weather may be. To put it bluntly, our team and our fleet is pretty badass and we love a good challenge. It's why we are the trusted source for heavy-duty calls that involve intense recoveries, inconvenient roll overs and everything in between. And while we may be Southern California based, we encounter unimaginable conditions while we are out on the road doing what we do best. If you're looking for a towing company that can do it all, look no further. Wondering how we do it? Keep reading for more on this heavy-duty all-weather towing company.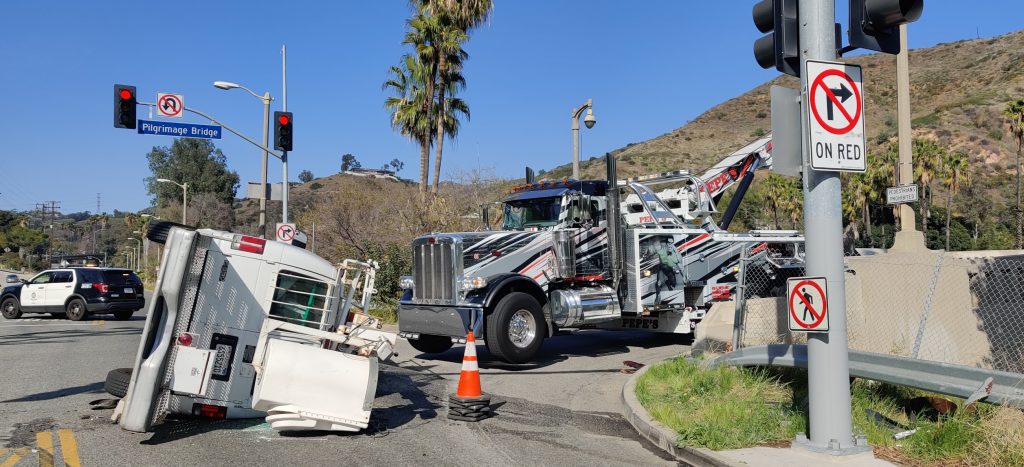 Rollovers, Recoveries and Towing in Extreme Heat
We've been in the heavy towing business in Los Angeles for more than 40 years so the heat is no stranger to us, with temperatures reaching 100+ during the hottest months. To combat the heat, we've actually gone the extra mile to install mini fridges on some of our larger rigs like our 50 Ton and 75 Ton Rotators, aka Hulk and Big Flipper.
Having a mini fridge stocked with water, and energy drinks, while out on heavy-duty jobs in the intense heat has been a life saver. Especially this past summer, where we spent a lot of time out fishing cars out of sewer drains and off the sides of cliffs. Some heavy-duty jobs take hours to complete, and staying hydrated while we're on the job is a must.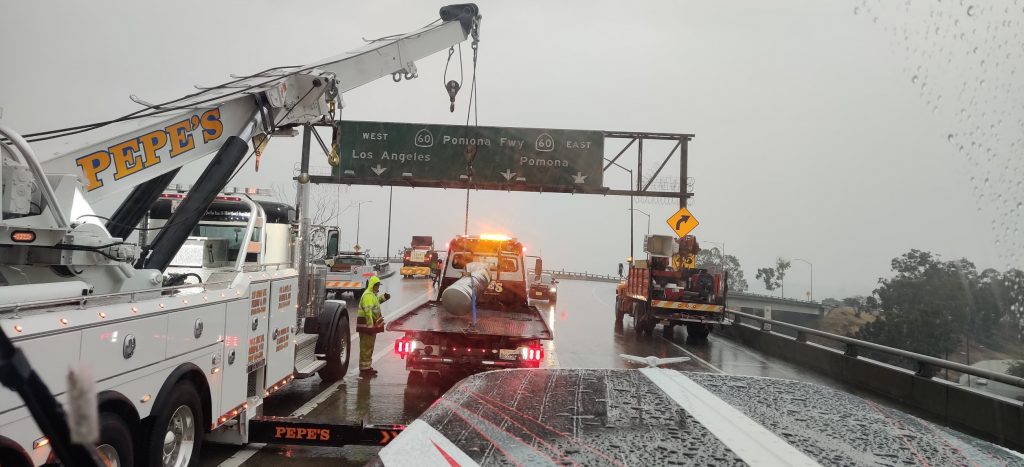 Heavy-Duty Towing When it Rains in Southern California
If you've ever driven in the rain in Southern California, then you know that it's an absolute nightmare of a time. Drivers are not use to adverse conditions, such as rain, and do not yield to the weather conditions accordingly. Which leads to a spike in accidents, especially heavy-duty rollovers. Also, accidents, in the rain, at night. Yeah, we handle those calls too.
Our secret to staying safe in the rainy season is proper protective gear and keeping ourselves well-lit with the proper lighting so that we are as visible as possible to other drivers on the road. Having a protective helmet, reflective vest and other reflective gear and our Guardian Angel Lights is a must.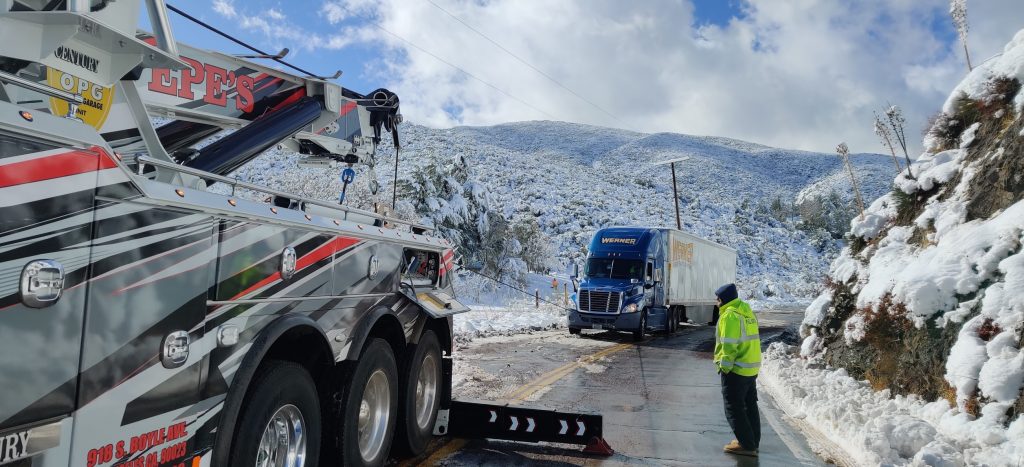 Heavy-Duty Towing Through Ice and Snow
It's not very often that we get calls that involve taking our fleet to the mountains, but it happens. With one of our multiple locations serving the Inland Empire, sometimes they need an extra hand on a tough job and we're always there to help. When towing in these conditions we come prepared with proper protective gear for both our team and our fleet. These types of jobs can go sideways fast, and safety is always our number 1 priority on any and every job, so we always proceed with caution. Driving slow and double checking our work before we make a move to ensure that everything is safe and secure.
Pepe's Towing in Los Angeles, CA
Neither rain, nor snow, nor sleet, nor hail shall keep Pepe's towing from getting the job done. The next time you find yourself in a bind on the side of the highway, give us a call. Our experienced team of towing operators are ready and available to help with jobs of any size. While we specialize in medium to heavy-duty towing, we offer a wide-range of towing services to help with any job. Give us a call.