Pepe's Towing Services can get Messy
One of the best parts of this job is the unpredictability of each day. Every day is a different day and we love it. We never really  know just how normal or unexpected the calls for the day will be, and during our 40+ years on the job, we've had our fair share of surprises. Sometimes these surprises bring with them a big mess, but no job is too messy for Pepe's Towing. Looking back over this past year, we've handled a number of messy towing recoveries. Here are a few that made our messiest recovery list. 
Messiest Towing Recoveries and Clean Ups
Moving Gone Unexpected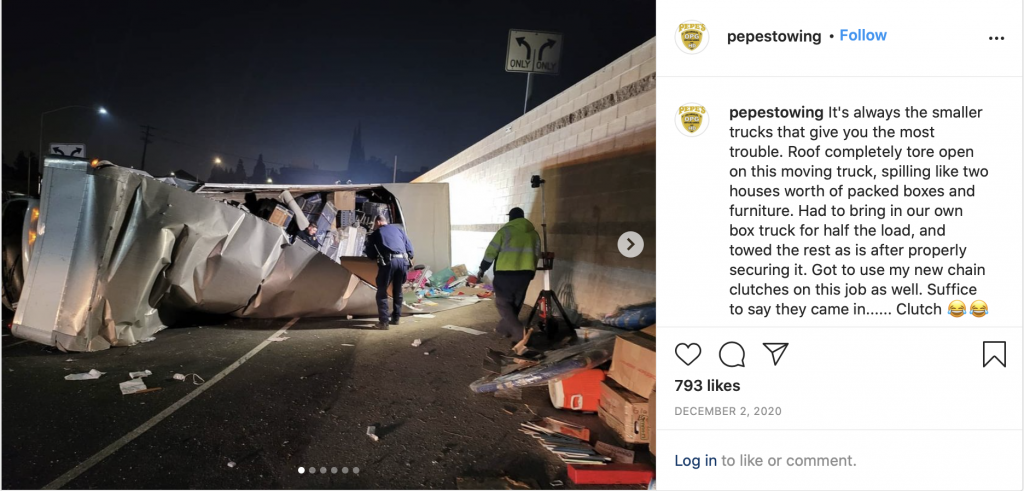 Moving can be one the most stressful things to do. Even more if this happens on your way. This truck completely tore open and spilled two houses worth of packed boxes and furniture causing the driver's belongings to fan out into the street. Luckily, when we showed up it was an easy fix after securing the load and we were able to assist in the clean-up process. Check out more photos on our Instagram. 
Tanker of Acid spill off the freeway
One of our messiest towing recoveries we received is after a car crash causing a tanker full of acid to fly off the freeway and spill out into a nursery. After getting a complete overview of the site, we were able to see the full scale of this recovery to figure out the best way possible to clean up the nursery. Big Flipper and Hulk are the best two in our arsenal to get the job done. With flowers and multiple obstacles, this was an all-day job. We love these challenging calls and take pride in doing them. Check out the full recovery here.
Truck Filled with Hand Sanitizer Tips Over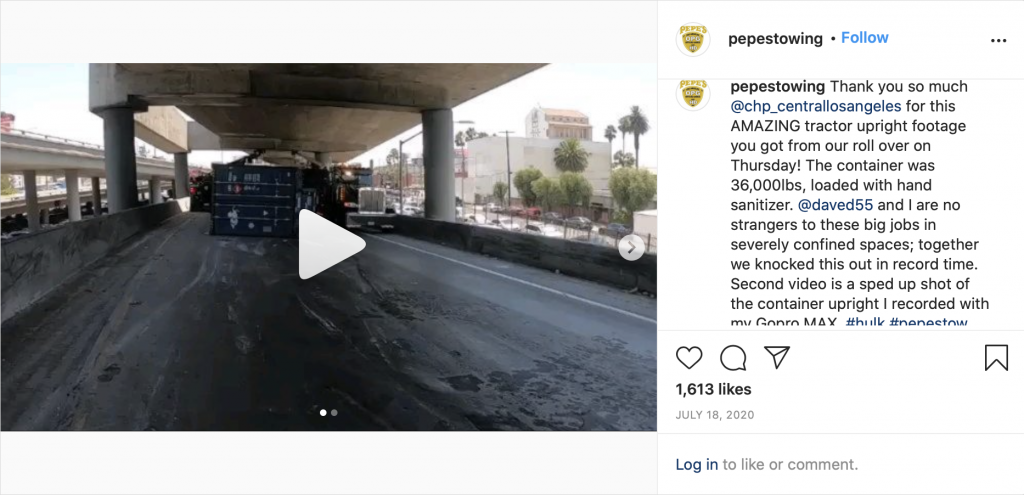 This recovery is so fitting for 2020. A 36,000 lbs. container carrying hand sanitizer flipped and spilled all over the freeway. When Dave and Josh got the call and pulled up to the site they knew right away this will be a simple tow. Both are experts at operating in small confined spaces and flipped the container in record time. They left the streets of Los Angeles spotless and completely sanitized. Get a closer look at the clean up here. 
Need Heavy Duty Towing Recoveries in Los Angeles? Call Pepe's Towing
These towing recoveries were quite the mess, but this is what our team at Pepe's love to do. We have one of the best and most experienced crews in all of Southern California who bring their expertise and professionalism to every job. Los Angeles is our home and we are here to help in any way possible. If you're ever in need of a lift, we'll come pick you up. Call us anytime.